Extremely versatile both in terms of overall dimensions as well as storage capacity and output. The TowerBeton applies the most modern technology to meet the storage capacity and output demands of our customers.

Features
Environmental Protection
To maximize productivity, paying careful attention to production factors such as raw materials, manpower, and facilities is a must. Consideration to environmental impacts are equally important when designing and engineering high-volume production concrete plants. By investing correctly from day one, with a ecological solution in mind, the ability to improve production efficiency and environmental impacts, has resulted in the TowerBeton plant.
Eco-friendly features:
Noise Reduction: noise reduction is achieved by enclosing the plant with insulated panels
Dust Elimination: dust filters installed on the weighing hoppers and the mixer allow for a full recovery of the dust in the mixing cycle
Recycling of Waste Water and Washing of Vehicles: Simem BetonWash is the solution for reclamation of excess concrete and slurry water from cleaning of trucks, pumps, mixer, buckets, etc; Simem WaterWash is an integrated system of clarification and neutralization of recycled water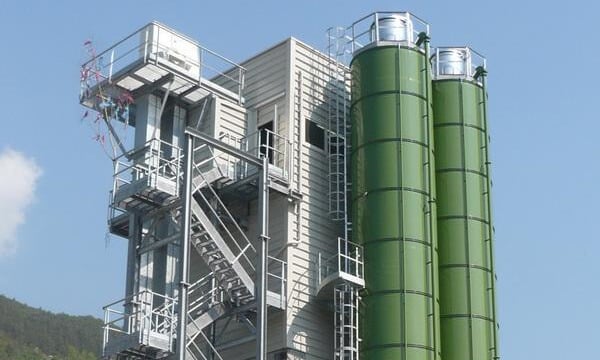 Innovation
The Simem TowerBeton series of vertical batching and mixing plants represent the state of the art technology for industrialized concrete production. The design of the TowerBeton's square frame is comprehensive:

Hot dip galvanization of all support structures and aggregate bins, reducing maintenance costs and increasing lifetime of the plant
Optimal positioning of dosing gates under aggregate bins reduces wear considerably compared to other solutions
The box skeleton structure allows for simple and standard affixing of cladding options (insulated, corrugated, and architectural).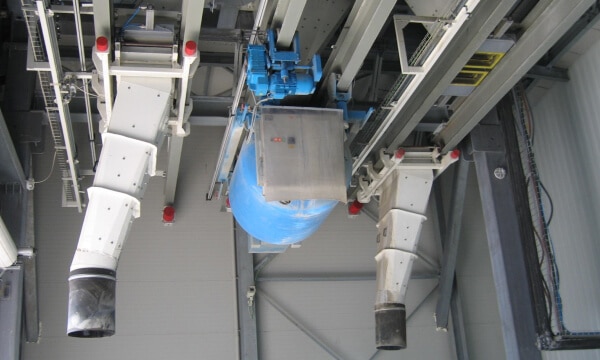 Space Optimization
The Simem TowerBeton vertical structure is dimensioned to support aggregate storage bins above the mixer platform for efficient gravity feeding of the mixer. Space is optimized to ensure:
storage of clean water and additives tanks
electrical panels
concrete laboratory
A stockroom for spare parts, inventory, and maintenance activities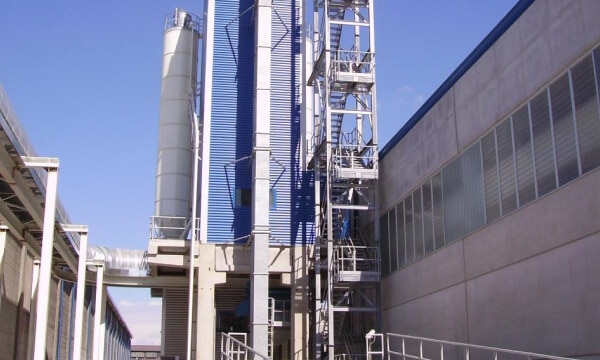 Modular Concrete Plant Design
Like all Simem batching and mixing plants, Simem TowerBeton plant has a modular design, which lend flexibility to meet a specific footprint requirement.
Top Level
Aggregate Loading:
Belt conveyor or vertical bucket elevator
Storage Capacity:
Range – 170 yd3 to 785 yd3
Mid-Level
Dosing System:
Combined weighing and dosing devices for aggregates, cements & powders, water, and additives.
Lower Level
Mixing:
Single or dual mixer equipped (twin shaft, planetary, or combination) to meet required production volumes.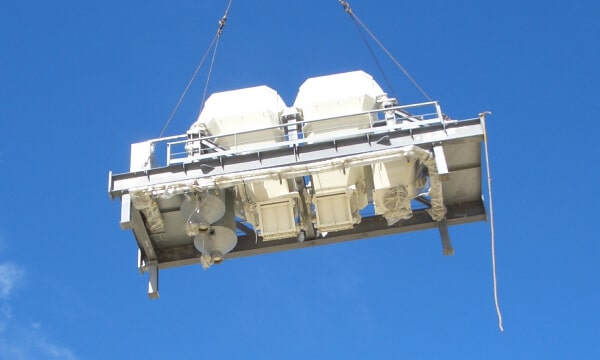 Specifications
| | | | | |
| --- | --- | --- | --- | --- |
| Model TowerBeton | T75-4 | T75-6 | T88-6 | T88-8 |
| Dimensions (LxW) – m/ft | 7×5 / 3×16 | 7×5 / 23×16 | 8×8 / 26×26 | 8×8 / 26×26 |
| Aggregate storage m3(cy) | 130-350 (170-450) | 130-350 (170-450) | 450-550 (550-700) | 430-550 (550-700) |
| Aggregate compartments | 4 | 6 (proportional) | 6 (proportional) | 8 (proportional) |
| One mixer configuration | MSO 6001 | MSO 6001 | MSO 14001 | MSO 14001 |
| Two mixer configuration (up to) | SUN 751 + Xentrix 2001 | SUN 751 + Xentrix 2001 | 2xMSO 6001 or 2xXentrix 4502 | 2xMSO 6001 or 2xXentrix 4502 |