Simem has been recognized worldwide for the development of a wide range of mixers which have been designed for the production of quality concrete. Simem MDC Continuous Flow Mixer adopts the recognized twin shaft mixing technology which is specifically designed for Zero Slump Concrete and Roller Compacted Concrete (RCC).
Completely protected with wear liners and Ni-Hard cast iron paddles, hydro-dynamically designed to reduce wear and provide optimized mixing results, MDC versions have proven very useful for pumpable slurries, road pavements, and applications for treatment of industrial solid waste.
Let's talk about your next project.

Features
94% Efficiency – MixerMindTM Check System
Simem MDC twin shaft mixers are equipped (as standard) with high efficiency planetary type gearboxes with a mechanical efficiency of up to 94%. Integrated oil cooling systems guarantee a proper working temperature which extends gearbox life and reduces maintenance costs. The MixerMindTM system provides complete surveillance of the mixing operation. The system provides service reminders and alerts upon the detection of abnormalities to avoid potential damages to mixer and its components.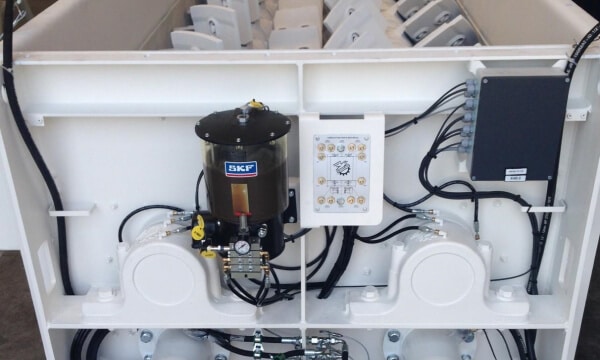 Specifications
| | | | | | | |
| --- | --- | --- | --- | --- | --- | --- |
| MODEL | 200 | 500 | 200 mining | 500 mining | 200 mining L | 500 mining L |
| Concrete output m³(cy)/hr | 150 (200) | 300 (400) | 80-160 (100-200) | 120-250 (150-325) | 80-160 (100-200) | 120/250 (150-325) |
| Max Aggregate size mm/in | 65/2.5 | 65/2.5 | | – | – | – |
| Mixing Motor kW/hp | 1×30/40 | 2×35/50 | 1×30/40 | 2×30/40 | 1×30/40 | 2×30/40 |