The ideal solution for projects requiring mobile operations, accurate weighing of multiple aggregates and powders, including cements and fly ash.
The Bison 500 plant from SIMEM can precision mix up to 500 tons per hour in continuous production. Bison 250 will mix up to 250 tons per hour in continuous production.
The main unit of the Bison plant can be ready in just a few hours.
Applications include:
RCC (Roller Compacted Concrete)
Pavements
Cement-Treated Bases
Soil Stabilization Mixes
An ideal mixing solution for roads and civil construction projects where accuracy, precision, and dependability is required.

BISON's main unit contains all that is required to successfully weigh, dose, continuously mix, and convey RCC (Roller Compacted Concrete), Concrete Pavements, Cement-Treated Based and Soil Stabilization mixes – the unit includes our MDC continuous twin shaft mixer, 1-2 aggregates, powder and liquid dosing devices, loading belt and SIMEM@tic FLOW Software System to manage precise material charging and continuous mixing for the highest quality product result.
Plant Overview
Mobile Mixing Unit
Trailer Mounted Mixing & Batching Unit
Hydraulically Powered Plant Set-up – No Cranes Required
Aggregate Hopper 19.6 cy /15m3 Capacity (divider optional)
Hot-Dipped Galvanized Steel Structure
SIMEM@tic FLOW Intuitive Automation
Weight based Cement & Aggregate Metering System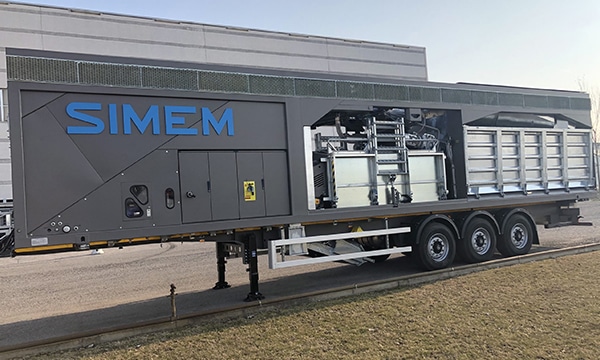 Continuous Mixing
Adjustable Mixing Retention Time
MDC Twin shaft continuous mixer

Electric Drives
Bolted Mixing Paddles
Bolted Mixing Arms
Adjustable Mixing Arm Configuration
Practical Wear Liner Replacement
Reliable, Guaranteed Performance
High Accuracy Metering System
Independent Cement & Fly Ash Weighing & Metering
Integrated Water & Admixture Metering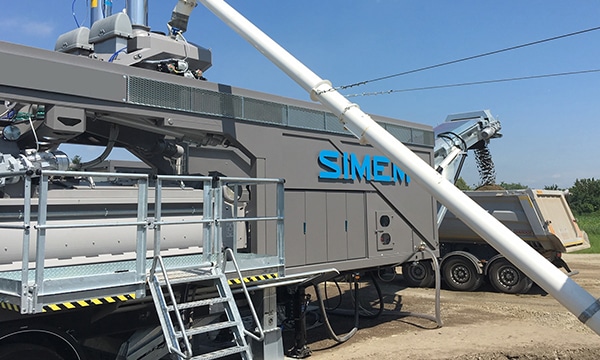 Designed For Capability
Bison is equipped with a MDC continuous twin shaft mixer, storage for up to two aggregates, an aggregate feeding belt, powder and metering devices for water and admixtures.
Aggregate Expansion
Aggregate expansion unit transportable with a standard container trailer
Aggregate extension for 3 additional bins
Independent aggregate Metering system with load cells for each bin, combined with advanced software control
Conveyor to Bison
Hydraulic Operated Galvanized steel panels to contain loading ramps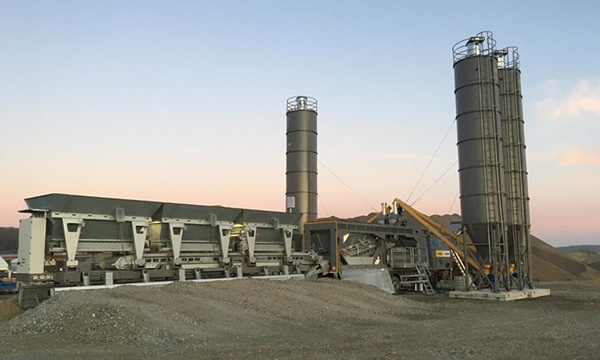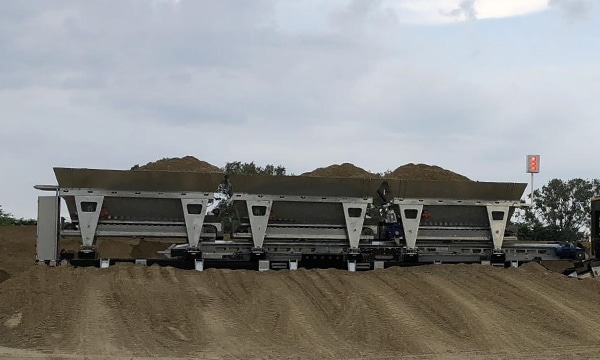 Mobile Cement Silo
Horizontal mobile cement/powder silo transportable with a standard container trailer
Each horizontal silo includes an integrated hydraulic system to move an attached screw conveyor from transport to production position.
Vibrators on inclined section and fluidization system with independent air compressor
Silo capacity ~ 400 bbl (46 m³/1625 cu.ft.)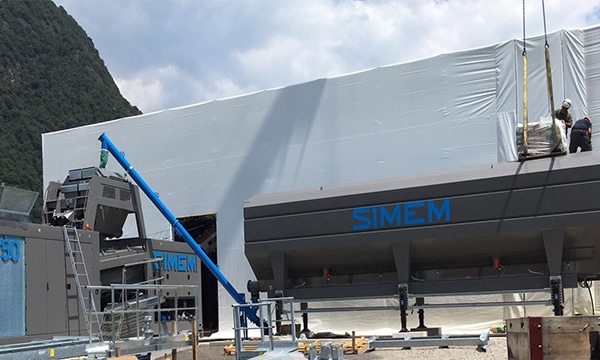 Automation
Simem@tic Flow is an easy to use automation with unbeatable accuracy and flexibility for uninterrupted operation.
Familiar Windows operating environment with SQL database
Flexible reporting and backup functionality
Real time flow correction for each material
PC/PLC based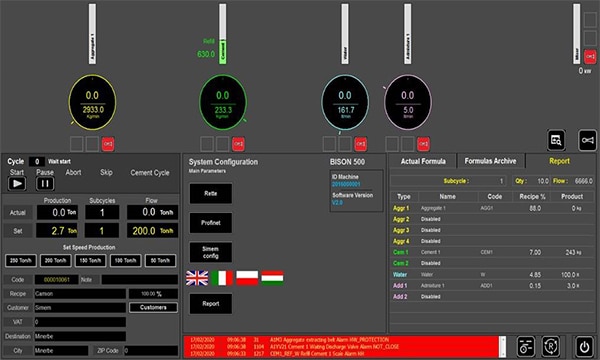 Service Unit
Service unit enhances the mobility of the Bison package with all the infrastructure components needed for a quick setup installed on a frame that be transported with container trailers.
Diesel driven generator with the capacity to operate the Bison and all optional units
One 5,300 gallon (20,000 liter) water tank
Two admixture tanks, each with a capacity of 530 gallon (2,000 liter)
Air compressor – screw type with air dryer and tank
Insulated control room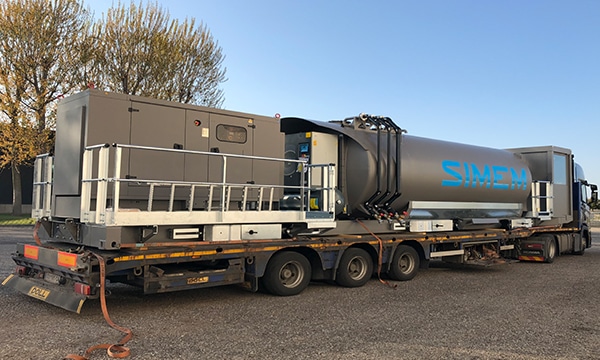 Specifications
| | | |
| --- | --- | --- |
| MODEL | 250 | 500 |
| Aggregate bins (max) | 4 | 4 |
| Mixer – Continuous Twin Shaft | MDC 200 | MDC 500 |
| Capacity (tons/hr) | 250 | 500 |
Case Study – BISON, YOUR ULTIMATE MOBILE MIXING SOLUTION